Visit us at the Care & Support exhibition in October
15/09/2015
If you'd like to find out more about Option 1 in Self-directed support why not come along to the Magnum in October and have a chat with one of our advisors?  The full details about Care & Support North Ayrshire's event are below.
Do you want to find out more about the range of health and social care services available throughout North Ayrshire?
Then head along to this year's Care & Support Exhibition that will be taking place at the Magnum Leisure Centre in Irvine on Wednesday 7 October 2015.
The event will run from 10am to 4pm and showcase over a 120 service providers and community organisations. This free event is being hosted by the North Ayrshire Health and Social Care Partnership and is sponsored by BBD Creative.
It's open to everyone living or working in North Ayrshire who is interested in finding out more about the huge range of health and social care services and community activities available throughout the area.
Visit the exhibition, have an informal chat over a cuppa at the free Café Solace or attend a seminar and demonstration. It's your choice!
For ongoing information, news and services please visit the dedicated Carena website at www.carena.org.uk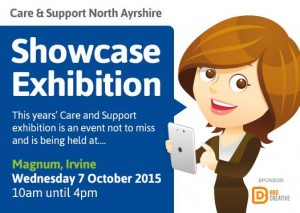 Click to Return to News