AILN Christmas Party and AGM
30/11/2017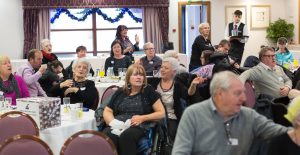 We held our AGM and Christmas Party at the Gailes on Monday 27th November. We had a great turn out and huge apologies for anyone we may have missed from the invite list!
We tried to keep the (slightly) less exciting stuff to a minimum while still covering all the important AGM parts. This year we were delighted to have some proper entertainment, rather than just the bad jokes the staff usually attempt. We had the pleasure of Diane Davis-Bailey,  Belly Dancer and Confidence Coach, who had us all dancing and smiling within minutes. I think it's safe to say that the people who use AILN's services have the moves! We also had the fabulous talent of James Hopkins entertaining us with his singing skills. What a voice! A great day all round.
A big thanks to all our staff and the staff at the Gailes for making the day go so smoothly.
The raffle was a success and many lucky people left with armfuls of prizes, kindly donated by clients, staff  and local businesses. Each year the money we raise is donated to a charity chosen from suggestions submitted to a box on the day. The winning charity was drawn by Dianne this year and the winner is the wonderful Scottish Network for Arthritis in Children
Video from the AGM: https://www.youtube.com/watch?v=1CN_kkWeOdA

Click to Return to News